Julianna
Gallery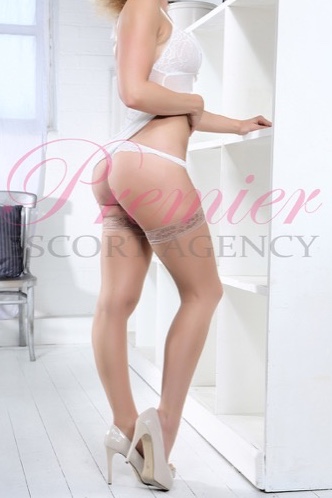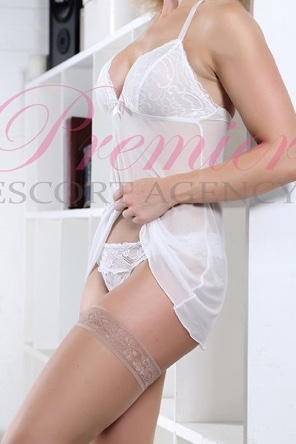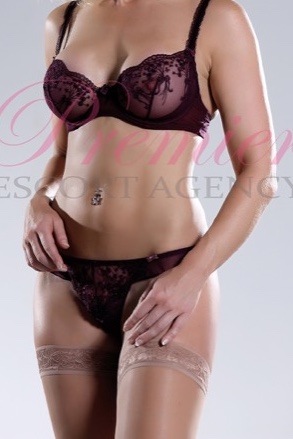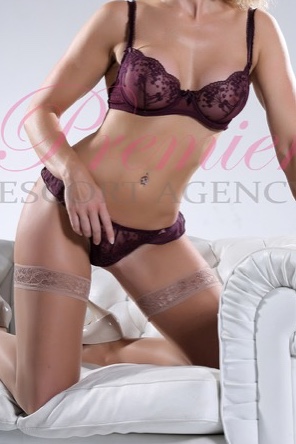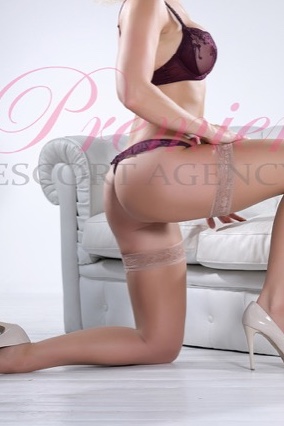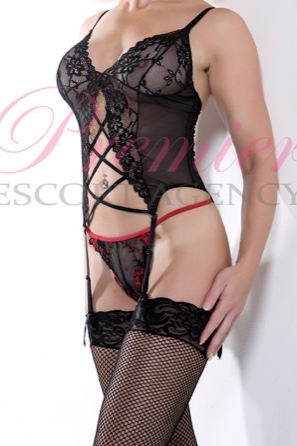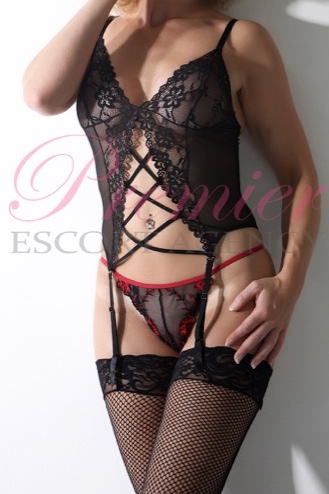 Profile
Julianna is a gorgeous, sexy, bubbly lady with naturally curly blonde hair and big blue/green eyes, who is always smiling and willing to please. She loves to meet new people and entertain... spend some quality time with Julianna and you'll be left smiling too!

Julianna has a slim, size 8 toned body and a personality that shines. This sensual classy lady will surprise you with her naughty imagination and please you with her expertise. She keeps herself in tip-top condition with regular visits to the gym and lives life to the full... and with her vast selection of PVC, Wet Look, Fishnet outfits and toys, trust us, Julianna is ready to play your game!

If you want the perfect full GFE, the lovely Julianna is the perfect choice companion. She is an experienced lady who knows all the right buttons to press. Enough reading... pick up the phone and call us today... you'll be glad you did!
Reviews
As Lord Byron might have put it,upon encountering Julianna, "Methinks I have the hots for thee Milady".
Written by Mike
19th January 2018
Fab lady... very gorgeous. Thanks again!
Written by M
5th January 2018
If youre looking for a good gfe then book Julianna. I can assure you you will not be disappointed, no matter waht you want from your date Julianna always leaves you 100% happy!
Written by Mr Smith
14th December 2017
Good evening Premier Leeds, just a quick note to express my gratitude for the kindness you have shown me. Julianna was a perfect match for me. Once again thank you for everything. Gordon
Written by Gordon
20th November 2017
Truly stunning, Julianna is an absolute joy to be around. I highly recommend her. Regards Harry.
Written by Harry
4th October 2017
What a charming, stunning sexy classy lady. Cannot fault our date whatsoever! Perfect night for me all round!
Written by Mark
20th September 2017
I have used Premier on a number of occasions now and am very impressed with the professionalism of everyone. A top agency.
Written by Paul G
6th September 2017
Julianna is a stunner... Bang on!!!
Written by B
13th August 2017
Smart, funny and sophisticated with a stunning personality to match her delectable body. First meeting but wont be the last!
Written by Bob
1st August 2017
When Juliana turned up I was amazed to see that she looked even better than her photos. Outstanding service too. Thankyou.
Written by Daniel
27th July 2017
A quick note to thank you for your assistance yesterday at such short notice. Julianna was perfect for me. the evening was a hit!
Written by Gareth
19th June 2017
Thanks again Elizabeth. Enjoyed dinner last night and our very deep conversation! The desert was even better!! Cant wait until next time.
Written by Mike
9th May 2017
Amazing figure, im smitten with this stunning classy lady. This isnt the first time ive seen her, yet everytime I see her she brings something new to our time together. Already booked her again for next week.
Written by Andrew
21st April 2017
Wow Wow Wow!!! Julieanna is the best escort I have ever seen so far 5 stars.
Written by Nigel
18th March 2017
Juliannia is one of a kind, very acommodating nothing to much trouble felt so at ease in her company. left me feeling fantastic with a massive smile on my face.
Written by Daryl
14th February 2017
had a lovely time again! with this gorgeous charming goddess! xoxoxo all over and thanks again!
Written by Nicky
2nd February 2017
I have met Julianna on a number of occasions any my experience with her just keeps getting better. A fantastic companion!
Written by Keith
17th January 2017
Back from her travels. Love this lady always upbeat and sexy, very classy lady.
Written by David
15th December 2016
An absolutely perfect match for me. Thank you Premier for introducing me to an amazing lady.
Written by Geoff
24th October 2016
My regular lady was unavailable on Friday so I was recommended Julianna. A great match. I will be seeing my regular lady with Julianna next week... if I can take it!
Written by Gareth
6th October 2016
A big thank you for the best time ever from Paul xx
Written by Paul from Wetherby
7th September 2016
I've got a very high powered job and am forever telling people what to do so its nice when I can spend time with someone who is in control and can dominate me. Had a great time with Julianna she knows her stuff and will help you unwind.
Written by Paul
15th August 2016
Just a quick note to say thank you Premier for introducing me to Julianna. We had a great time last Thursday. Once again thank you for Julianna.
Written by Pete
19th July 2016
10 out of 10 for Julianna! Very passionate lady and is very open minded. She will definatly pamper you. Thanks again love. x
Written by Adam T
6th July 2016
What a treat! Exactly how she was explained to me. Truly fab lady. Cheers. Gavin
Written by Gavin
20th June 2016
What a stunner, Great massage, fit body 2 hours of fun defo see her again soon.
Written by Antony
7th June 2016
My 1st experience of seeing an escort and all I can say is wow. I'm hooked, the lady on the phone was friendly and the service was discrete. Juliana arrived 5 mins early dressed as requested and was even more stunning in the flesh. Had a fun filled hour with this passionate young lady. Will be sure to book again.
Written by Ben
15th April 2016
Juliana was highly recommended and I couldnt agree more with her previous reviews. Well worth a 2nd visit and I will be back very soon. thank you
Written by Phil
24th March 2016
With so many gorgeous ladies to choose from I didnt know where to start. Made a quick call to Premier and after telling them what I was looking for they recommended 2 girls who they said were perfect for my requirements. I decided to book Julianna and yes premier she was perfect in every way.She was absoloutly gorgeous, smelt amazing and made me feel on top of the world.
Written by Michael
19th February 2016
Julianna is the perfect lady, perfect company and we complement each other perfectly.
Written by Mike the hippy
10th February 2016
It was my first time with an escort and I was a bit nervous. But shouldnt have worried Julianna really knew how to relax me. Shes a very attentive lady and full of fun. It does help that shes gorgeous too!
Written by Kenneth
5th February 2016
Spent a nice time with Julianna. I never reckoned Id meet someone far more beautiful and clever than me,with lovelier hair too. Im jealous but I wanna see lovely Julianna again.
Written by Mike the hippy
18th January 2016
Thanks Julieanna for a brilliant evening. 4 hours was not long enough with you. Im glad I took the operators advice and had a change from my usual lady.
Written by Marc
18th January 2016
My perfect escort my time with her was magical. Gorgeous blonde curly hair with stunning body and so sexy and sweet. A pure delight.
Written by Robert
22nd December 2015
This lady is fun with a capital F. She loves what she does and it truly shows. Combine that with her looks, figure and her great personality and your in for one hell of an earth shattering experience.
Written by Dennis
2nd December 2015
An excellent recommendation. A perfect match for me. Juliana is beautiful and very elegant. Thanks Kate for recommending her.
Written by Colin
9th November 2015
Very classy lady, shes beautiful and her body is such a turn on! First time ive seen the lovely Julianna but wont be the last.
Written by Dave
21st October 2015
Julianna !!!! What a fantastic genuine sexy lady !!!! Nothing else to say !! xx
Written by John L
7th October 2015
I saw this lady last night for an hour. Had a great time would love to see her again. I will be back for more. Thank you.
Written by philip
3rd October 2015
I just adored this delicate bubbly beauty. Very feminine caring and a pleasure to spend time with. Thank you so much for a great time.
Written by Nick
25th September 2015
Julianna was recommended to me as my usual lady was not working. Fantastic lady, a nice change and I will be seeing her agian soon.
Written by Rob
9th September 2015
One of the newer additions to the premier team and she certainly lives up to their standards... Im totally speechless, wow, wow, wow! X
Written by george
1st September 2015
Wow! was delighted to meet the new girl Julianna. This petite fire cracker certainly knows her stuff. Kept me well entertained and would see again.
Written by James
28th August 2015
Stunning new lady. She is everything they are saying she is. Had a great hour with her. will see for longer next month when in Leeds. Loved her hair!
Written by John
20th August 2015
Julianna is a professional escort covering Leeds and the rest of the Yorkshire region. Any monies paid to her are for companionship and experience only, anything else that happens is between consenting adults.
Back to top